I think of performance as a way of giving viewers access to my multifaceted bookworks. Collaborations with dancers, poets and musicians help uncover the dramatic and kinetic potential of my pieces. We explore book action and the connection of the book to the body. Through play and improvisation with these fold-outs and wearables, we find humor and nonlinear stories. In solo and group performances, we animate boxes, colorful folding screens, flowing paper waterfalls, percussion instruments, masks, headdresses, and abstract costumes.
"Susan Share is the visionary of book/body navigation and the actions of reading. Every advocate and student of the book can be thrilled by this achievement." - Gary Frost, book historian, 2013
"There is no book artist like her. Susan, her books and their presentation are sui generis. Susan was first to create books as props and apparel…How outrageous was this young woman's presentation of book-works."
- Keith A. Smith, artist and author, 2005
"Her book forms are beautifully made, structurally ingenious, functionally proven and magnificently decorative. (They) are alive. They spring and flow like fireworks, swirling and clattering rhythmically." - Frost, 1990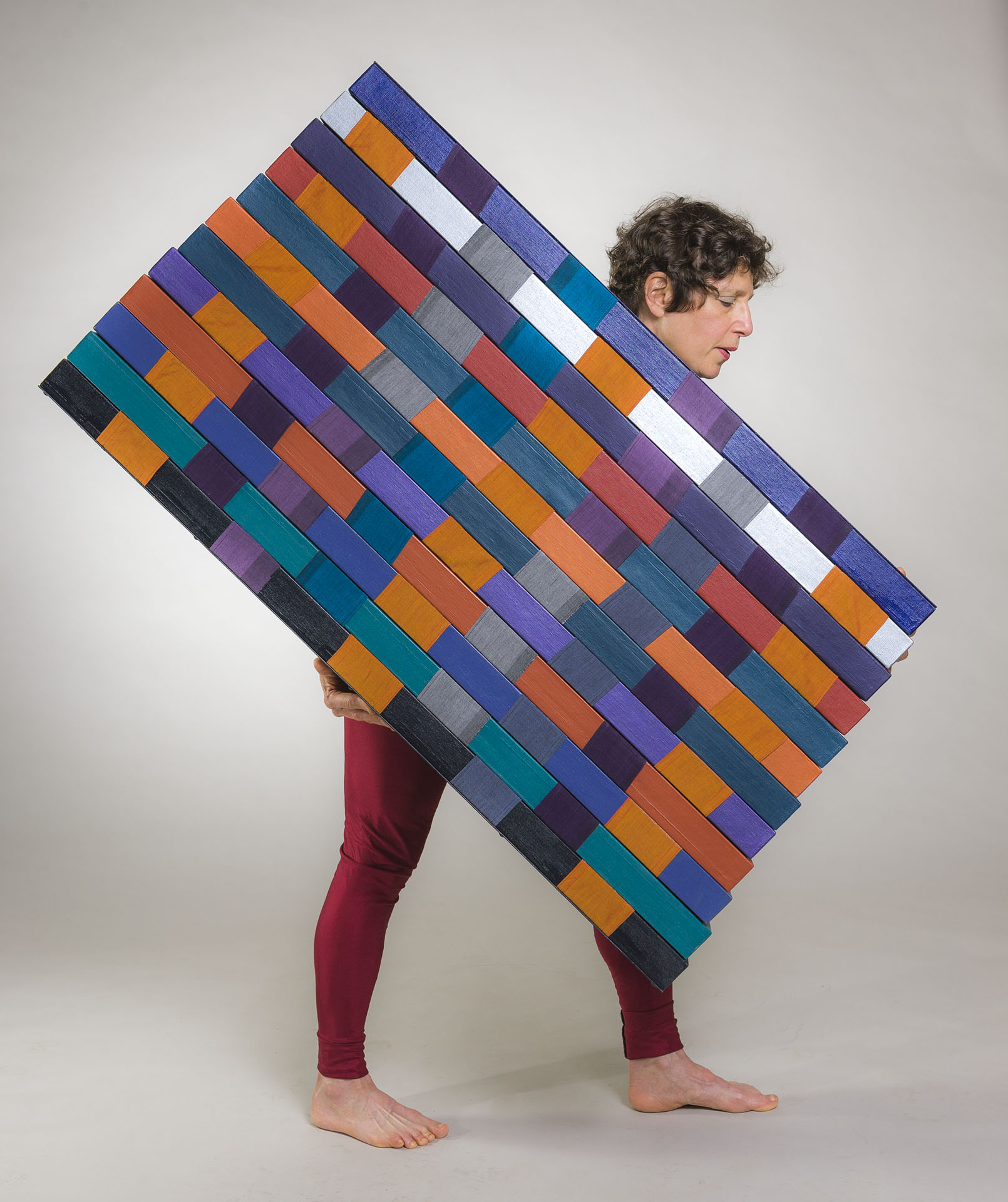 Stack, 2013
foam board, paper, cloth, acrylic
50" x 40" x 5" closed, 96" x 40 x 5" open
This sculptural book may be arranged in numerous vertical and horizontal configurations. The form, based on a Japanese screen hinge, is made by weaving and adhering strips of fabric around planks of the Stack. The movement and transformation of this piece alludes to migrations of people who carry all of their possessions as they flee from a troubled homeland and attempt to build a future.
On By, 2013
dog food bag, paper, fabric, plastic, acrylic
17" x 17" x 2"
The layers of this bookish, Trailblazer handbag and headdress comprise a winter outfit for excursions in the snow. The wearer can hike, ski or snowshoe and will be well equipped to clean up after any dog whose owner has walked On By.
From the Sleep of Waters, 1982; reimagined/rebuilt, 2010
paper, cloth, board, plastic, acrylic, thread, felt, shells, beads, ribbons, metal
The chambered box is a dramatic interpretation of a mythic poem about the sea by Richard Lewis of the Touchstone Center for Children. Fish, shells, waves, sea grasses and imaginary creatures emerge from the box to flow, rattle and flutter.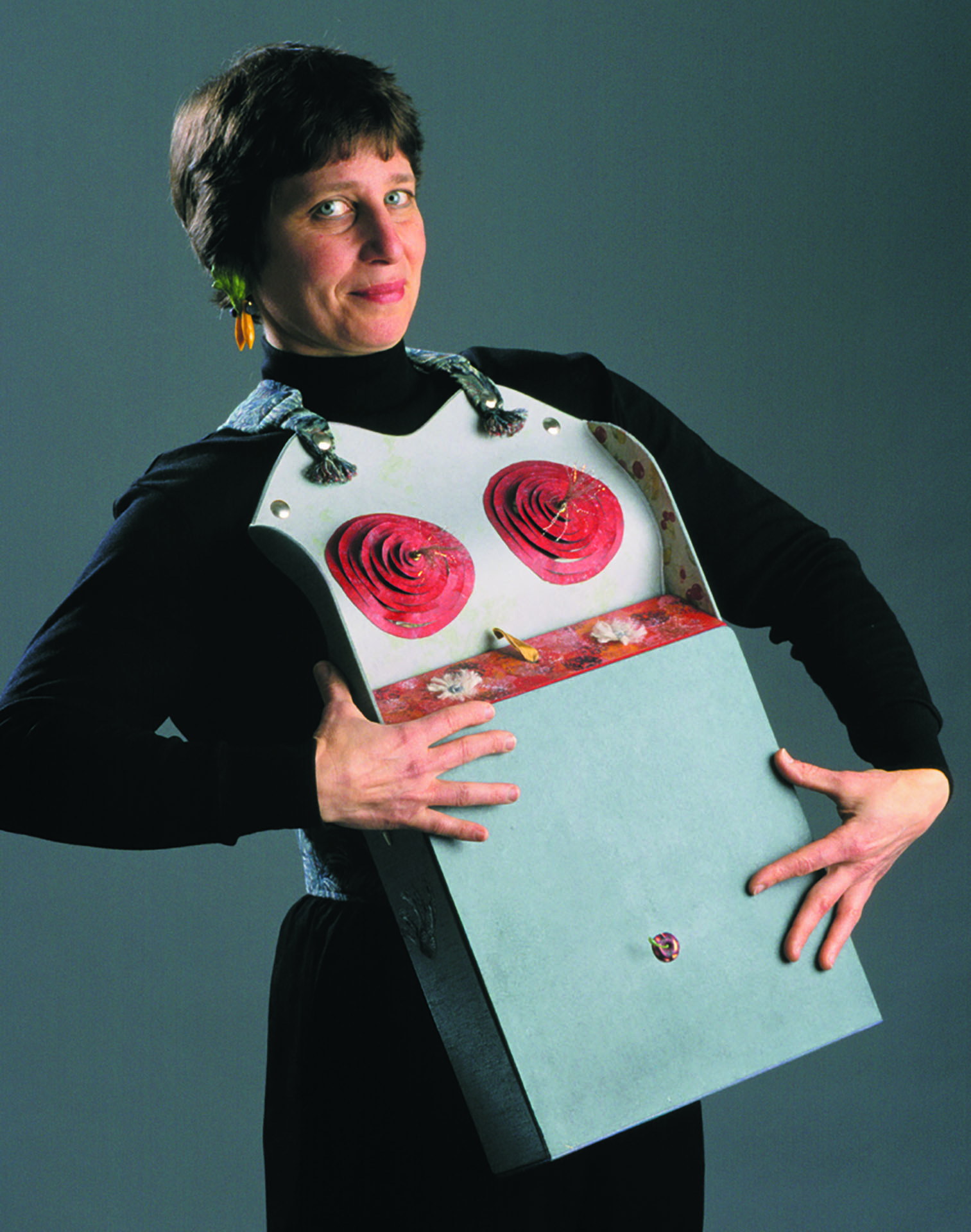 Carrots Anyone? 1999
paper, cloth, board, beads, cord, shredded money, Styrofoam
23" x 15" x 3 ½" closed, 60" x 60" x 15" open
Carrots Anyone? is a takeoff on a "cigarette girl" costume. The box is secured at the back. The front panel opens, then hinged, handmade paper legs fold out and swing with the body's movement. Pop-up breasts, twin shoelace puppets and a box of mini-carrot-books appear. The books, sewn to Styrofoam facsimiles, contain text such as "look and feel good" and "think thin". The performance touches on our vulnerability to advertising and the pressure to conform to gender stereotypes.
Box for a Brighter Side, 1994
paper, board, cloth, acrylic, photos, cord, metal, leather
32" x 24" x 8" closed, 72" x 240" x 180" open
Box for a Brighter Side begins as a large, suitcase-like box and gradually unfurls to reveal brightly colored collage panels, life-sized screens and pop-ups. They fold outward, upward and across the floor. As unexpected components emerge, percussive sounds abound. Parts become costumes, others turn into stage sets, and the objects and performers transform. Human travelers become abstract animal creatures. This movement piece brings sculpture into the performance arena as a tactile, visual and mobile force.
Unfolded World, 1989
paper, bookboard, cloth, acrylic, cord, metal, elastic
The performance, in collaboration with choreographer Stormy Brandenberger, musician Cooper-Moore, actress Nancy Putnam Smithner included a series of 20 unfolding book-like props, wearables, boxes and percussion pieces. Each object was manipuated by the performers and opened to reveal a world of color, sounds and architectural spaces. It was funded in part by the NY State Council on the Arts and performed in NYC and Upstate NY.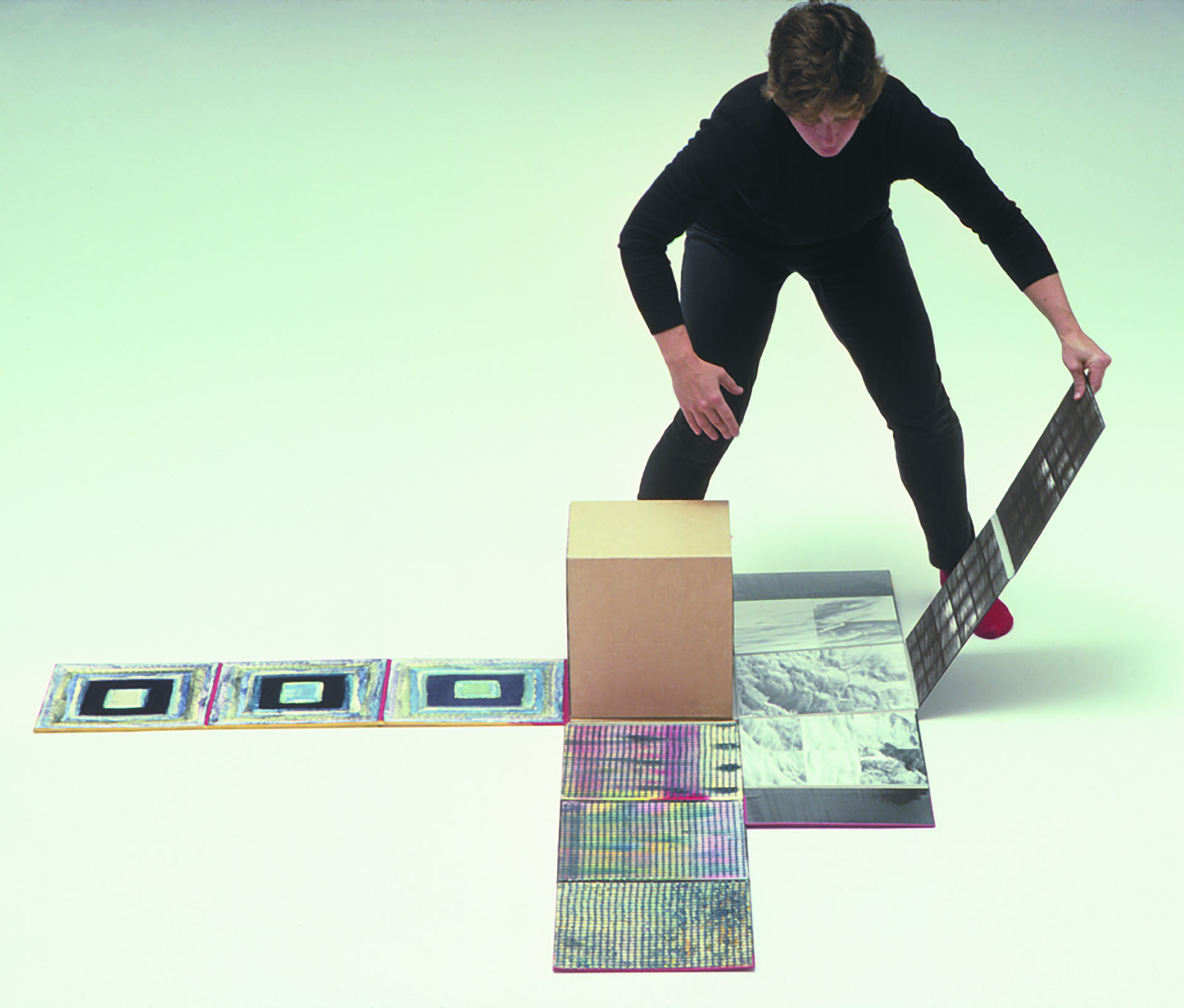 Unfoldings, 1985
paper, bookboard, cloth, acrylic, cord, metal, foil
13" cube closed, 15' x 20' x 5' open
Unfoldings is an early, signature piece that combines sculpture, dance and mime. Built from the inside out using bookbinding and bookmaking techniques, it incorporates several structural ideas and experiments with book sounds and movement. The box opens, layer-by-layer, to spread across the floor in a spiral configuration. Each panel contains components that again unfold, revealing color, shapes and vertical constructions. In the end, it all folds back compactly as the last musical note sounds.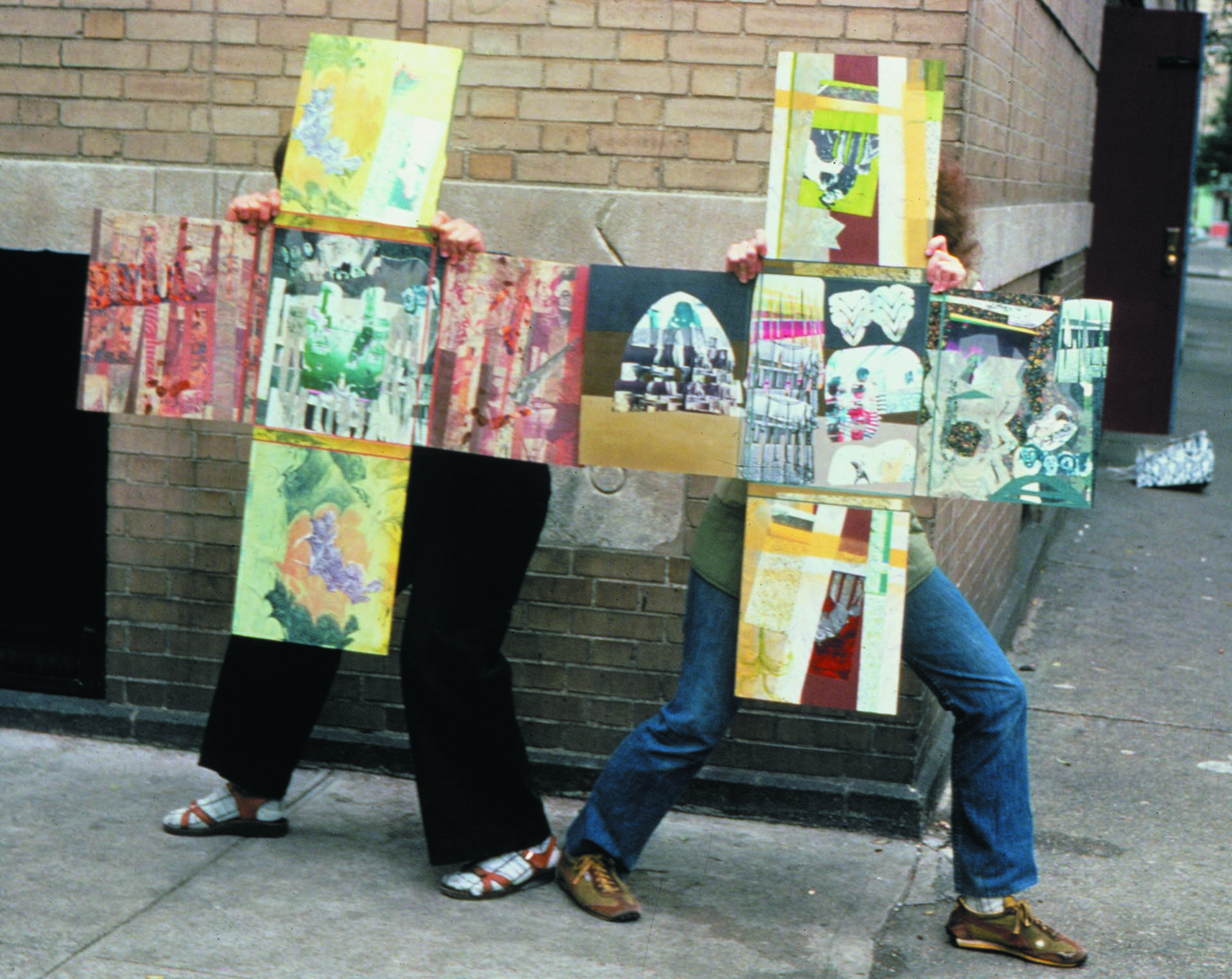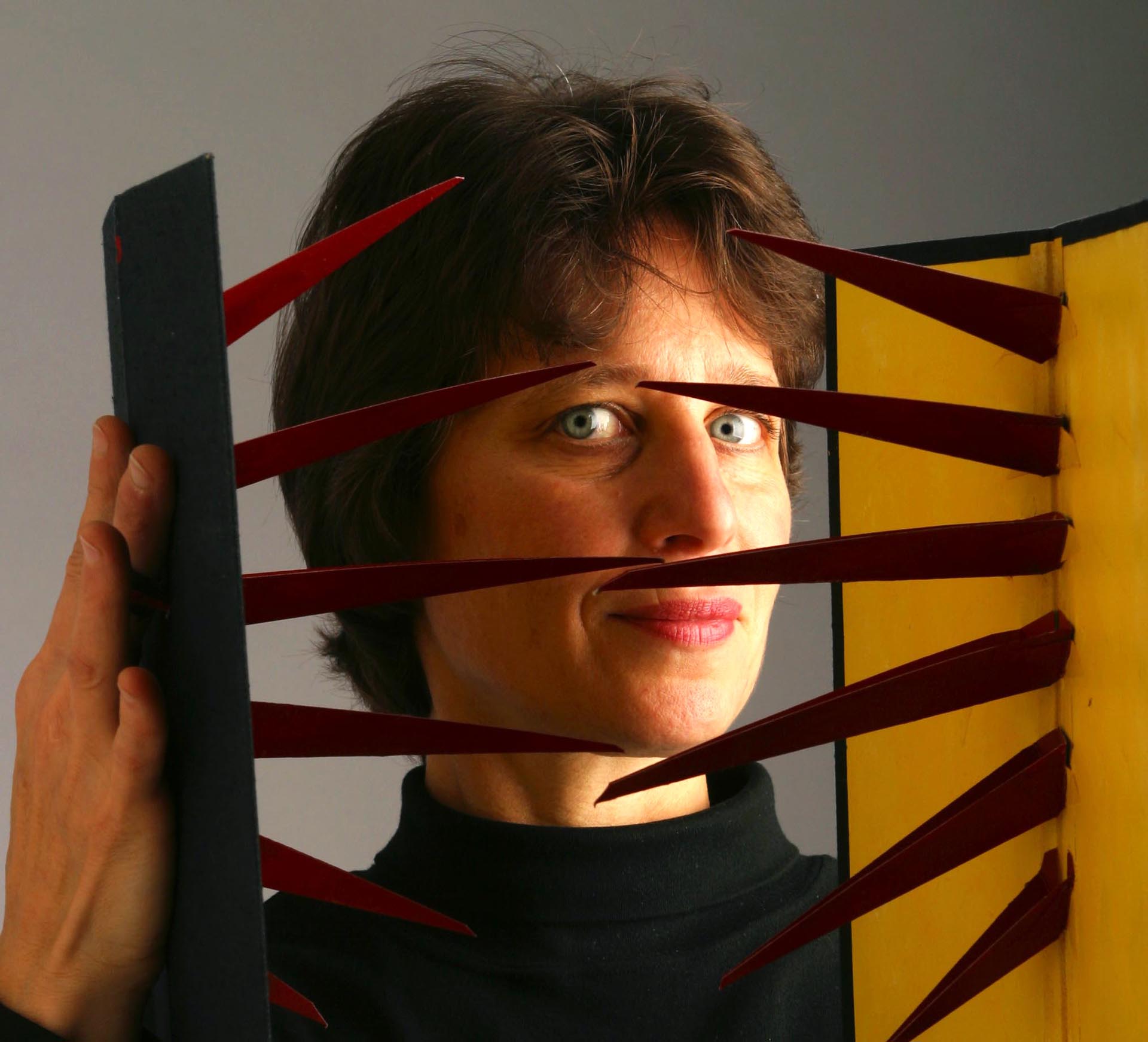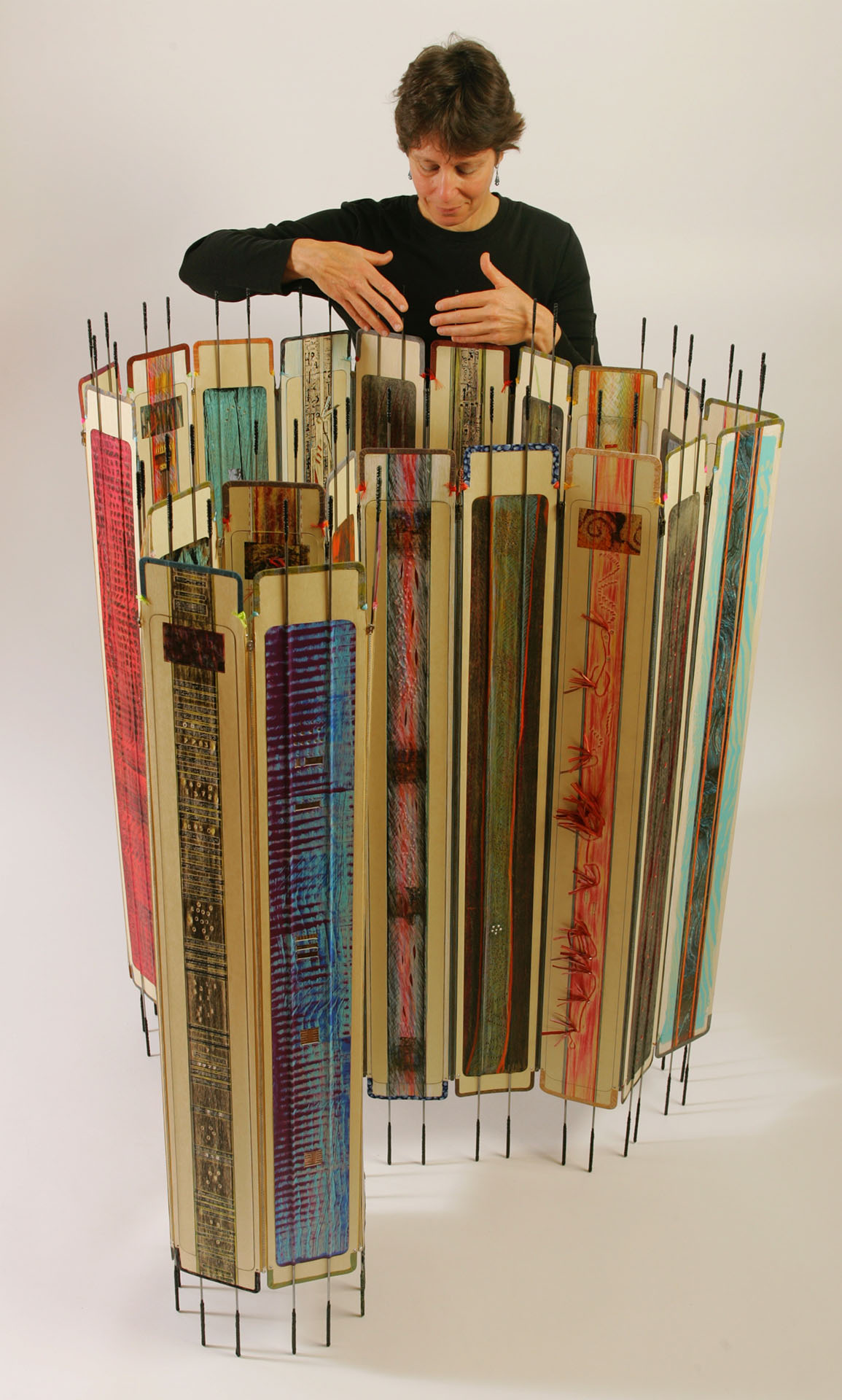 Book Moments, 1979-2005
These ten photographs show improvisational moments with my sculptural bookworks. Some pieces were developed more fully into performances and while other images present a particular action or feature.
View Slinky performance here Paper Slinkys were originally created in collaboration with Julie Siegel Bennett.